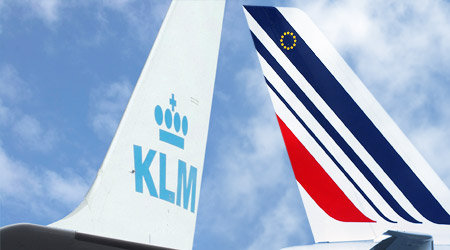 Air France's New Business & Economy Cabins
Air France have recently launched new services in their Business Class and Economy cabins so we thought we'd get the facts & figures for you.
Economy Class
The new seating in the Economy cabin is comfy and looks quite elegant with its navy blue & red upholstery.  Specially designed pillows are ready for you when you board and a fleece blanket will also be provided.  With ample leg room, an adjustable headrest and fully retractable arm rests (on most seats) your comfort during the flight has been made a priority.
A few other nice touches in Economy is the cup holder that is available even when your tray table is folded and a special hook to stow your headphones.  There's also the usual seat pocket in front of you to store your books and magazines.  Electrical outlets are available in your row and a USB port is located under your screen so you can stay connected.
In-flight entertainment is provided via a touch screen, available in twelve languages.  Choices are updated every month and include movies, TV series and cartoons for the kids (or those who are big kids at heart!)
Business Class
Air France touts their new Business Class seat as 'a cocoon in the sky' with its enveloping structure.  The seat converts to a fully-flat bed, with direct aisle access for every passenger and a 16-inch high-definition touchscreen with over 1,000 hours of entertainment available, again in twelve languages (French, English, Spanish, Brazilian Portuguese, Chinese, Japanese, Korean, German, Italian, Dutch, Russian and Arabic).  Air France promises that choosing your entertainment has never been so easy and intuitive.
The new cabin can serve as an office, restaurant, entertainment lounge and bedroom, allowing you to decide how best it can meet your needs.  It is currently available on flights between Paris and Guangzhou, Shanghai, Jakarta, Tokyo & Singapore.
Other features at each seat include touch screen handset, electrical outlet, USB port and noise-reducing headphones.  A padded headboard (exclusive to Air France), adjustable headrest, multiple storage areas, duvet & feather-down pillow and high quality finishes.