Cathay Pacific A330 Business Class Review
After our brief visit in the Cathay Pacific Bridge Lounge, we proceeded to board Cathay Pacific direct Hong Kong – Adelaide service. Cathay is the most consistent airline flying to Australia with a fleet of 3 cabin aircraft offering fully flat beds in their award winning business class and a premium economy offering to the 6 major Australian ports. Cathay Pacific remain a favourite airline of ours, used across a variety of round the world airfare deals.
We were seated in row 19 after a late date change, this is at the bulk head of rear section in front of premium economy. Compared to the forward bulkhead there was a lot less light spillage through the smaller galley section. Cathay Pacific feature a 1-2-1 layout in a reverse herringbone configuration. That is that each seat has aisle access but is angled away from the aisle, this provides window views for those in the single seats and the middle passengers angle towards each other so those are ideal for couples. Should single travellers be seated in the middle there is a retractable divider. This seat design is favoured by Air France, Qatar Airways, Eva Airways and a number of other carriers and is in our opinion the best business class seat design in the sky. The seat does take up a bit more room which sees upward pricing reflected in Cathay's premium price point, however, you can sample this product on discount round the world fares from Lufthansa and SWISS without a significant price impact.
The seat has a number of storage nooks, with plenty of room for your personal items. There is also a welcome shoe storage bin which is great for slipping your shoes on and off mid-flight. We were welcomed by the usual offering of champagne, juice and water and were soon taking off. Once in the air the cabin crew handed out the business class menu and attractive amenity kits which currently feature Jurlique products as well as socks, a toothbrush and ear plugs.
The audio-video on-demand [AVOD] screen stores at an angle from the seat but is released to be squared up to the seating position. The screen is a significant size and has an excellent resolution. Cathay feature a wide range of the latest movies and TV shows for in-flight entertainment and the system was very responsive. The only downside with the screen, and perhaps the whole seat design, is that it cannot be tilted down to amend the viewing angle when reclined which makes viewing whilst lying down difficult.
We were soon served drinks and the smoked salmon entrée, which was very nice if you like smoked salmon but there was no alternative offered. There was a choice of 4 main courses which were rolled out on a silver trolley, I chose the lamb which was a bit disappointing and perhaps I should have played to Cathay Pacific's strengths and chosen an Asian meal. A wide range of breads were offered including a nice garlic bread.
For dessert, a cheese and fruit tray was wheeled out followed by a delicious chocolate cake. Coffee, tea and pralines finalised the dinner service and some 2 hours in to the flight the lights were dimmed. I reclined the fully flat bed in to the very comfortable sleeping position and managed as short nap before the lights were back on 2 hours before for the breakfast service.
The initial tray laid down had fruit, a very tasty bircher museli and water followed by the bakery offering. The croissants were some of the best I've had on an aircraft which is a tricky environment for pastries. Again a tray followed with the main courses, I had the omelette which was surprisingly good although in my sleepy state I ate it before taking a photo.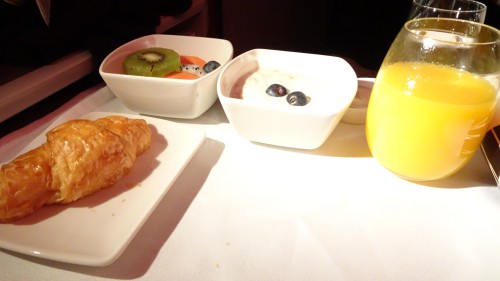 The service from the flight attendants was attentive whilst unobtrusive, they used my name on several occasions and even managed to hide their disappointment at my order of a latte over the drip coffee already prepared. Overall, Cathay Pacific's business class service is arguably the best in the sky. Qatar feature an almost identical offering although I would just give my top marks to Cathay for service over Qatar's cabin crew and the consistent product offering to all Australian ports. Cathay really do tick all the boxes, there are almost no faults in the seat, meals, amenity kit, entertainment, lounges or service so we were very happy travellers and look forward to our next flight on this amazing airline.
Mark Trim, Director
To enquire about Business Class flights with Cathay Pacific, contact your RoundAbout Travel Airfare Specialist by completing our online inquiry form.
Ratings:
Lounge 9/10
Seat 9/10
AVOD 7.5/10
Food and beverage: 8/10
Service 9/10
Cleanliness 8/10
Overall: 9/10