Lufthansa Business Class Review, Rome-Frankfurt-Hong Kong
Rome-Frankfurt-Hong Kong
August 2015
Lufthansa Rome – Frankfurt A321 Business Class Review:
See current Lufthansa Business Class round the world airfares.
Rome Fiumicino airport is in a bit of a state of disarray after a recent fire in June 2015. The business lounge was closed and we were given a EUR10 voucher each to use at a restaurant where we had a nice plate of pasta. The impromptu works to fix the airport have also left a shortage of gates and unfortunately we were a little delayed and taken out by bus to the aircraft. Upon boarding, we were warmly greeted and my daughter was handed an array of toys which was a nice touch. These planes have an adjustment curtain to expand the business class section as people book, with forward rows having a bit more legroom than economy. The middle seat is blocked out and has an additional storage area featured.
The bulkhead/front row has an impressive table design unlike any other I have seen, saving space in the arm rests. Lufthansa have made a nice effort to make the front of the plane feel private and a more premium space than on sister airline, SWISS.
European airlines across the board treat short haul domestic as being more about additional features than seat design, the opposite approach to US airlines who feature larger seats in business/first class domestically yet still hold back on the extras. Whilst there is a bit more legroom it's generally an economy seat but the spare middle seat and extra pitch make a difference. There is a premium meal service as well as all the usual priority business class aspects one comes to expect and it was overall a comfortable flight as we connected to our long haul service.
Lufthansa Frankfurt-Hong Kong 747-800 Business Class Review:
We arrived from Rome 20 minutes delayed due to the current deficiencies at Fiumicino airport after the fire a few months ago. We had booked a 1hr 50min connection and on arrival at Frankfurt we transferred through passport control to the Z gates where intercontinental flights depart from. Lufthansa's route network is incredibly vast and the size of just this gate area is testimony to that, it is spacious and generally has a premium feel to it.
We proceeded to the Lufthansa Business Class and Senator Lounge for a very short visit which has very nicely laid out seating arrangements and the usual buffet fare. On this kind of connection time don't expect to have any time in a business class lounge, should you like to relax and have a shower between flights or catch up on work we would suggest to book a 3-4hr connection given time goes pretty quickly in such a large airport.
Upon boarding the 747-800 aircraft we entered via the Business/First aerobridge, walked through the downstairs business cabin and up the rear stairs to the upper deck. Seating downstairs is in a 2-2-2 configuration and upstairs in the more private cabin there are 10 rows set out as 2-2 starting at row 81, the upstairs section is noticeably larger than older 747s and has that perfect balance of feeling special that you are upstairs whilst creating a more spacious area. After the first 3 rows there is an exit row break and rows 81 and 82 are booked out for the highest tier Miles and More frequent flyer members. Row 83 can be booked, the row in front of the exit, although there is limited overhead storage due to the presence of safety equipment in the lockers. Also, the ambient lights in the exit row do shine down on these seats whilst the meal service is taking place. With this in mind we would recommend row 85/86. The window seats upstairs feature additional storage bins underneath the windows. The usual offering of juice, water and champagne was handed around as we took our seats.
The new business class seats on Lufthansa have been introduced over the last 2 years and are now featured on all the long haul aircraft, a huge investment in upgrading their product considering their impressive fleet size. The seats are in a dovetail fashion which is quite a unique design to Lufthansa and particularly attractive for couples. The seats have various reclining positions and there is plenty of storage, both in the arm rest, underneath the footstool and beneath the screen.
The amenity kit was located in the lower storage compartment and contained a nice array of products and a very nice pillow and blanket awaited. One great touch was a pair of slippers, ideal for trips to and from the lavatories without having to put your shoes on in the middle of the night. Generally the amenity kit had a classier feel featuring Kores products, compared to the adequate but more spartan offering on SWISS.
Upon take off we were handed a menu and drinks were served. I opted for the tuna entrée, pork goulash main and the mousse dessert. The meal was very nice and served from an attractive silver cart, I enjoyed a German wheat beer with my meal. Flight attendants were efficient and friendly without being particularly personal, largely as expected.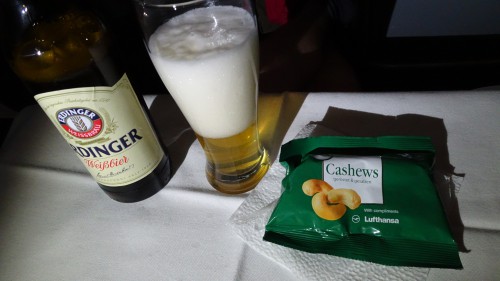 Whilst enjoying the meal I worked my way through the audio video on-demand [AVOD] system which ran through a very large and high resolution screen. There was a wide selection of choices, the menu is well laid out and it is a very responsive and up to date system.
With the dovetail format upon seating it looks as if the screen is angled away from the seat but it pivots out to be adjusted square accordingly. The downside of having to use this horizontal pivot is that it then doesn't feature an option to adjust it vertically and angle the screen down when in the fully reclined option. This means that it's a little dull due to the viewing angle when fully reclined, should you like to watch some TV or a movie whilst trying to fall asleep. Lufthansa provide Bose noise-cancelling headphones that are the best that I have ever seen from an airline and they are nicely stored in the deep arm rest storage bay.
Lufthansa also feature FlyNet, an onboard internet service brought in from 2012 which is great for staying in touch or getting some work done during the flight. Lufthansa have the largest long-haul internet-enabled fleet and were one of the pioneers in this area. To connect costs EUR9 for 1hr, EUR14 for 4 hours or EUR17 for the duration of the flight. Considering you're at 34,000 feet those rates are very reasonable, unlike some airlines who may feature it yet only permit international roaming at very high rates.
When fully reclined the seat meets the footrest which is shared with the other passenger due to the dovetail layout. There is more space than some other cubby hole designs but it is a little awkward to climb over the other passenger. Ultimately this is the space saving design that keeps pricing down compared to First Class and it's not a major deterrent. This is perhaps the only other drawback apart from the screen to this design, for single travellers who may be concerned about this we would recommend to book downstairs in a middle aisle and for less agile passengers this would also have the benefit of avoiding the stairs. For couples this is less of a concern.
Brunch was served 1.5-2hrs before landing in Hong Kong, with both a hot and cold option on the plate as well a delicious curd cream side dish, similar to yoghurt. Pastries were handed around and the crew made another pass for a second helping as well as serving hot and cold drinks. I declined the filtered coffee and ordered an espresso which the crew brought around after handing out the meals, as is common we find cabin would prefer to pour you a drip coffee so be sure to check the menu and order espresso if you prefer it.
Overall I was very impressed with Lufthansa's business class, it is a sensational product offering and it feels state of the art. With the opportunity to fly the fantastic 747-800i, which isn't flown by many carriers who are opting for smaller Dreamliners, we highly recommend seeking out Lufthansa and perhaps even paying a premium above SWISS or Austrian. We would suggest it is worth at least 10-15% more for the newer product until SWISS bring in their new 777-300ER aircraft in 2016.
To book your Lufthansa Round The World Airfares, contact our RTW Airfare Consultants.
Reviewed by Mark Trim
Director, RoundAbout Travel