Lufthansa Premium Economy Review
Recently my partner and I had the pleasure of travelling from Frankfurt, Germany to Hong Kong on a Lufthansa 747-800 aircraft fitted out with new Lufthansa Premium Economy seats.
Being a new service for Lufthansa there was a slight anticipation of 'growing pains' – thankfully we didn't personally experience anything of the sort. It was a fantastic and extremely comfortable voyage. Whilst in transit we enjoyed some time in the Lufthansa business class lounge at Frankfurt which premium economy guests can enter for EUR25 each. It's worth noting that at other airports other than Frankfurt there is no option for lounge access although some airports such as Hong Kong or Singapore have pay per use lounges [e.g. Plaza Premium Lounge] or there are programs such as Priority Pass to get paid lounge access at many locations around the world. At the boarding gate there is no priority boarding for premium economy guests, boarding is done via the regular economy process.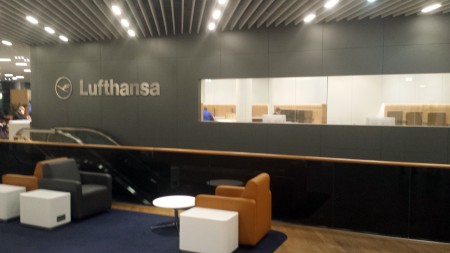 The main thing which my partner and I both noticed on the 747-800 aircraft was that Lufthansa has added the premium economy towards the front of the aircraft but behind a small section of regular economy seats. Behind premium economy there is a mesh barrier partially separating the regular seats behind, but there is no significant separation with the few rows in front with a small galley/toilet area and not a lot of signate.
In the seat map below you can see this small section of economy in front of the premium economy seats. This is somewhat unusual, Lufthansa decided there wasn't enough room for a premium economy seating at the front so they retrofitted the following larger partition. If you are flying on the A380 aircraft, from Singapore to Frankfurt for example, the premium economy seats are downstairs at the front of the aircraft and this would not be a concern.
With this unique layout there was some confusion as to whether or not regular economy passengers (in particular, the passengers sitting in front of the premium economy seats in economy seats) could sit in vacant premium seats, given that there were a few spare spots. The Lufthansa staff were quick to remind those passengers looking for a little extra free leg room that they were not allowed to occupy the empty spaces.
Aside from the minor distractions, the first thing I noticed when we got to sit down in our seats was the extraordinary amount of extra room you have, compared to a regular economy seat you have an additional 17 cm / 7 inches legroom. I am 196cm tall (almost 6'5″ in the old scale) and I certainly appreciated it! The leg rests, arm rests, pocket space and entertainment controls are also all well positioned, comfortable and suited for the extra space. Each seat has it's own armrest so you do not have to share with the neighbouring passenger.

The touch screen functionality of the entertainment unit worked very well (better than any of the touch screens I have used in the past year or two). All movies and television menus were easy to navigate, and the new release selections were definitely fresh. The screens are noticeably bigger than economy with an excellent 11 to 12 inch screen size depending on the plane.
A menu was provided which detailed both meals (with choices) as well as a list of the available beverages. All the food was wonderful (as can be seen from the pictures), as were the drinks and the overall service. A lot of attention and care pays dividends on long-haul flights, and this came in spades. The staff were also very friendly and exuded an air of control, organisation and comfort (which I know can be beneficial for nervous fliers). We were given a choice or juice or champagne once the plane had taken off, regularly attended on for other drinks and also hot towels for refreshment at suitable intervals.
I didn't think that the mixed seating arrangement was a major drawback at all. It certainly did not detract from my travel experience. I will be looking to fly premium economy again in the future, given the extra comfort it affords at an excellent price point. In my opinion, Lufthansa has made a worthwhile investment and this product will be very well received.
There are fantastic offers available to fly this product on your round the world trip in conjunction with Cathay Pacific premium economy via Hong Kong or Qantas premium economy via Tokyo. For routing via the US, United's economy plus product can be purchased for a small upgrade.
Like the idea of flying Lufthansa Premium Economy? Contact your Roundabout Travel Airfare expert for more information by completing our online flight enquiry form.