Cathay Pacific Premium Economy A350 Review
Cathay has had a dedicated Premium Economy Class since 2012, providing excellent service from all major Australian ports including Cairns, Adelaide, Brisbane and Perth. Typically other airlines only offer these cabins from Sydney or Melbourne.
Before you even board Cathay Pacific in premium economy you can enjoy the relaxed experience with priority check-in and boarding, keeping the whole process smooth and stress-free.
Once on board the Cathay Pacific A350, you will notice the smaller size of the cabin with a 2-4-2 configuration, giving you ample room to stretch out and relax during your flight. If you are travelling with a partner the window seats are the ones to choose for privacy and ease of getting to the aisle during the flight.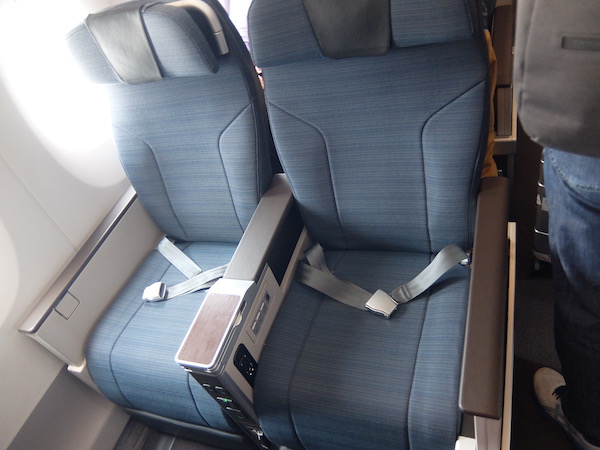 The seat itself was very comfortable and spacious, with plenty of leg room and generous recline and calf rest. With the meal table hidden in one armrest and a smaller drinks table in the other, it makes working or relaxing during the flight a breeze with each being able to be pulled out or put away at any time. The smaller drinks table is also great if you don't want to use the bigger table or need more space.
Legroom in Cathay Pacific premium economy
Meal table stowed in the armrest
Smaller drinks table on Cathay Pacific premium economy
Cathay did not compromise when it can to space or storage, making sure that everything you could need is all within reach, from the seat back pocket to a storage compartment in the armrest – perfect for a book, small device or other personal items. There is also a smaller pocket under the entertainment screen but it is definitely on the smaller size, really only big enough for a book.
Storage on Cathay Pacific premium economy
All controls for the seat and personal entertainment screen are also in the armrest. As always the StudioCX is filled with hundreds of hours on entertainment. Complete with complimentary noise cancelling headphones you are really able to sit back and relax during your flight. Even though Cathay has a huge range of entertainment available there is also a small shelf just under the screen to rest your own personal device. Charging your devices while on board is no problem with both USB and electrical plugs in the armrest.
Personal entertainment on board Cathay Pacific
A small shelf for personal devices
Connectivity on board
Cathay now offers WiFi on board for a small cost, set up is extremely quick and simple to understand.
WiFi on board Cathay Pacific
The meal service in premium economy was delicious and definitely a step up from economy. Including a hot meal, a fresh fruit selection and ice cream for dessert.
The service provided by Cathay Pacific was amazing as always, complete with a welcome drink and snack on arrival.
View Cathay Pacific round the world travel deals here