SQ SilverKris Lounge T2 Review, Changi Airport
Location: Terminal 2, Level 3, North Wing, near Gate E (after customs & immigration)
Opening Hours: Daily, 24 hours
Food & Beverages: Selection of warm food, light snacks and beverages
Facilities: Wi-Fi, PC's, Meeting Room, Restrooms, Showers, TV Area
Access: Star Alliance First & Business Class, SilkAir Business & Economy passengers holding PPS membership, Singapore Airlines First & Business Class and Economy passengers holding PPS membership.
This lounge was formerly a part of Singapore's flagship lounge when the airline operated the majority of their flights out of Terminal 2 at Changi Airport. With the opening of Terminal 3 in 2011, a new lounge was opened and this one now takes more of a backseat for Singapore Airlines flights but is used widely by Star Alliance partners, including SWISS and Lufthansa. The good news is that the airline took the opportunity to refurbish their Terminal 2 location with great results. Decorated with soft lighting and marble it's an appealing space with a peaceful atmosphere.
The comfy leather armchairs are nearly all equipped with both UK and Singapore-style power points.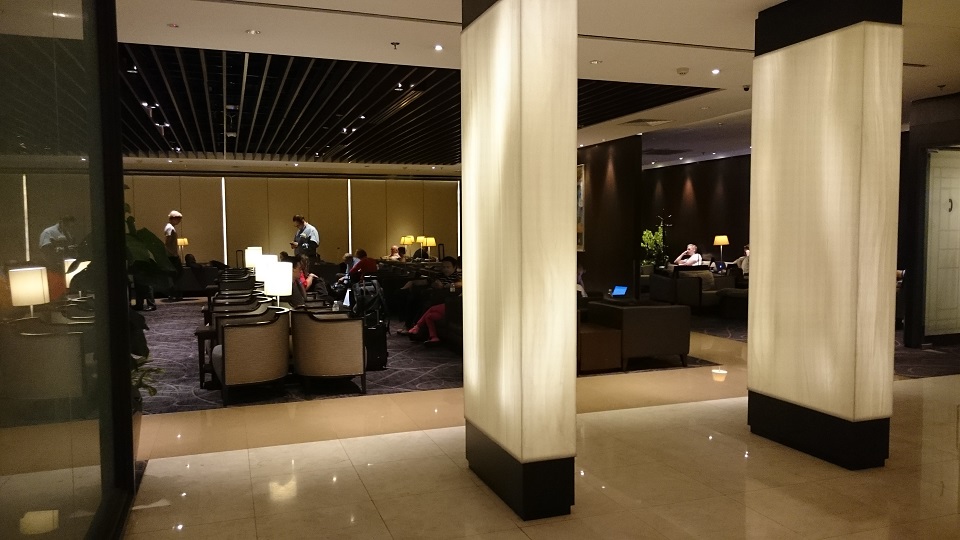 The food selection is wide and varied with about a dozen hot food options generally on offer, ranging from pasta to curry to soup, along with salads, sushi and a noodle bar. It's clearly designed to appeal to both Western and Asian tastes. In the drinks department you'll find beer, wine and spirits available in a self-serve area, which is staffed with a bartender at peak times.
The restrooms are equipped with showers, a welcome feature that is not always present in a premium lounge, and access is gained by showing your boarding pass at reception in exchange for the key. Although there are no sleeping rooms, the staff are happy to provide you with a Givenchy pillow and blanket.
For First Class passengers you can choose to enter your own dedicated 'lounge within a lounge' here offering more personal space, arguably nicer furniture, private work rooms and a bar that is staffed at all times. The food is that little bit of an upgrade from the standard offering in the Business area. Most passengers agree that the big win here is in the increased amount of space and privacy available.
The T2 lounge is a good choice for those boarding flights from Gates E or F nearby, as the journey by train from Terminal 3 (where the other lounges are located) can take about 10 minutes. Departures on our popular SWISS and Lufthansa business class fares would depart from nearby gates.