Travelling Round the World With Kids
Susan from our round the world team is currently travelling around the world with her 10 year old son Colby. Susan is detailing her round the world flights on our popular SWISS round the world airfare from the perspective of travelling as a family. Their itinerary is as follows…
Adelaide – Auckland – San Francisco [Air NZ] San Francisco – Zurich – Mallorca [SWISS] Mallorca – Zurich [SWISS] Zurich – Singapore [SWISS] Singapore – Adelaide [Singapore Airlines]
Susan's onboard reports as follows…
Flights – NZ 792 and NZ 8. Adelaide – Auckland – San Francisco.
Departed Adelaide on time, NZ crew are cheerful and pleasant. Even though they forgot our meal, they apologised, made jokes about the lack of service these days and had it sorted in a couple of minutes. No child meals on the ADL – AKL leg but the meals were mild enough for most children to eat. The meals on offer were chicken salad or beef fajitas. We opted for beef fajitas on rice and vegetables, accompanied by a bread roll and a slice of butterscotch cake. Very tasty and with the exception of the butterscotch cake, Colby ate the lot.
We were seated in row 9E and 9F. This certainly made disembarking quickly easier, our flight landed at 6.15pm and boarding for the SFO leg was at 6.45pm. The connection was relatively easy, directions are well sign posted and even with a bathroom stop and picking up bottles of water at the newsagent, had no trouble getting to the departure gate on time.
A full flight from AKL – SFO and we were seated at the back of the plane in row 55C and 55B. If you are making quick time to get to the boarding lounge and missed an opportunity to get a snack, you will be hungry by the time the flight takes off. Unfortunately sitting at the back means you will be the last served a meal, in our case just over 2 hours into the flight. I ordered the child meal for Colby who by then, had his heart set on the adult Chicken Marsala meal. If your child is used to Indian, Mexican meals etc you really don't have to bother with the child meal at all as the adult mains are certainly mild enough for them to enjoy. Instead I had the child meal! A good nutritious meal, certainly had worse plane food. The main dish was a penne pasta, bolagnaise sauce with good chunks of zucchini and carrot throughout. This came with juice, cheese, apple slices and ice cream, a well rounded meal. It was actually quite nice to have the apple slices after the meal, refreshing. Your child will also receive a "Activity Pack" with Air NZ pilot pin to wear, pencils and activity book. The child meal will come out first, along with the other special meal requests so the kids don't have to wait long to eat. By the the time the chicken Marsala came along, it was wolfed down in 5 mins flat. Excellent, was the verdict.
After the dinner service it's time to settle in for the long flight. With the in flight entertainment, you won't be bored with a huge selection of movies and TV shows to choose from. The games however, are quite basic and if your child has an Xbox or PS4 they may find them a little dull.
Being at the back of the plane does have its advantages if you can't sleep or need to get up and stretch your legs as there is a fairly large galley with toilets either side. The NZ staff make you feel welcome, offering water while you stand. The cabin crew are excellent, always friendly but casual, striking up conversations with Colby about his holiday plans. When I explained he was having problems hearing as one ear was blocked, they offered a nasal spray just before landing to help ease this. I didn't take them up in this though as by the time we landed I had my hands full. Colby was a little travel sick and for the first time we got to use the sick bags! Again, even after landing, the crew came over and offered water and tissues. Fantastic service!
LX 39 San Francisco – Zurich, LX 2154 Zurich – Mallorca
Upon boarding we are politely greeted by the cabin crew who are quick to assist passengers into their seats so we are ready to depart on time. We were seated in 33E and 33F, two seats together in the row of four. Unfortunately no aisle access but this time we were further up towards the front of the aircraft, giving you the bonus of being served quickly at meal service. SWISS have followed the market trend of paid seating allocations and we had decided not to allocate them on this flight to avoid the cost, although faced the worst case scenario being stuck in the middle group of seats. For the next long flight we ended up pre-booking 2 seats on the side at a cost of around ~$40-50 per person.
Quite promptly, approx 20 minutes into the flight, pre dinner pretzel snacks and drinks are served. Not long after that the main meals are presented. The two choices were vegetarian pasta or chicken pasta. We both opted for the chicken pasta which consisted of chicken, carrots and pasta in a creamy mushroom sauce. Accompanied with a side salad, bread roll and chocolate brownie for dessert. The chocolate brownie was the clear winner of the meal, delicious.
Small earplugs are on everyone's seat, rather than headphones. A comprehensive choice of movies and TV shows to wile away the hours. The inflight entertainment system is not a touch screen but controlled via remote attached to the armrest. This system will be greatly improved on the new 777-300ER planes filtering in to the SWISS network in 2016 on the major routes flown on the SWISS round the world airfares and their entertainment systems are also a bit newer on the SWISS A330 aircraft compared to the older A340s.
Breakfast is served 2 hours before landing, a light continental style consisting of warm croissant, roll, yoghurt and fruit juice. Again the cabin crew work at a brisk pace and breakfast is all served and removed in a short space of time.
Landed in Zurich 15 minutes ahead of schedule and made the easy transit through Zurich in no time at all. A small airport, well sign posted so it's just about impossible to make a wrong turn. At the end of the arrival terminal, you jump on the light rail to the connecting flight terminal in a matter of minutes. While on the train there is a strange soundtrack of cow bells with the finale of a loud moo. This gave my son the giggles, perhaps the jet lag staring to kick in! Once you arrive at the connecting terminal its just one flight up on the escalator, customs, which is really a quick stamp of the passports and you're done. I would say this took us no more than 15 minutes in total from the time we stepped off the aircraft. We've got a very handy Zurich airport guide on our website if you've got a longer transit, it's a great airport and a very easy transit gateway.
A small wait and we were off on the final leg to Mallorca. This wasn't a full flight and we were seated in row 33A and 33B to ourselves. The seating configuration is 3 – 3 so this was quite nice and roomy. A quick flight of just under 2 hours, time enough for a small baguette with your choice of ham or cheese and a drink. Again the crew are extremely efficient at their jobs and there is very little wait for the snack once on board.
Overall SWISS staff are excellent, with my son getting travel sick again on the long haul, they were attentive, bringing over cold washcloths and making periodic checks on him, offering water. Ultimately there is not a lot you can do for this but it makes the trip a little easier when there some assistance.
LX 178 Zurich – Singapore
A late flight out of Zurich at 10.45pm, feeling tired we happily took our seats in 33A and 33B. The seating configuration was 2-4-2 and this time we had the window and aisle seats to ourselves after doing the paid seat selection. We had a malfunction on one of our entertainment screens on this leg, the crew will try and move you in these situations which can happen from time to time on airlines so it's never a bad idea to have a backup iPad or laptop with some movies or TV shows on it just in case.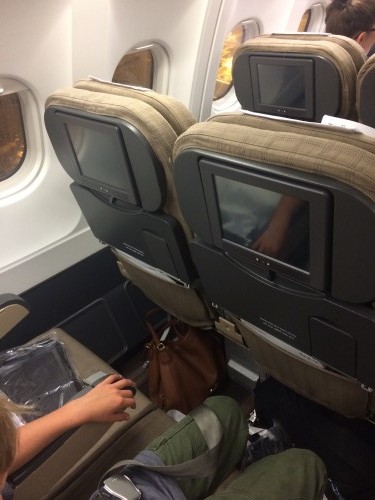 The meal service was prompt and within 20 minutes the child meals were delivered. So if you didn't get a chance to eat before the flight or were still a little hungry from an early dinner with the children, you will still get a meal on a late flight. Colby's main meal was spaghetti bolognaise accompanied with tomato and bocconcini salad, apple purée and a Kinder chocolate smack. Perhaps the child meal is aimed at the younger years as Colby had not eaten apple purée since he was a toddler. While the dinner certainly covered off your food groups, he was more interested in the adult meals coming through. Choice of either gnocchi puttanesca or honey chicken with broccoli, side salad with rhubarb crumb cake in raspberry coulis.
A short time later meals are removed, lights are dimmed and it's time to settle in for the longhaul. For those who can't sleep there are plenty of entertainment options to choose from with attendants walking through the cabin offering water.
2 hours before landing breakfast is served. Not a big difference between the child meal and adults, except the adults included a side serve of fresh fruit and the children were offered Nutella on their roll. The breakfast was omelette served with asparagus, croquettes, juice, yoghurt and bread roll.
Staff are attentive and friendly and as the flight was about to start descent, the attendants handed out small SWISS chocolate bars. As Colby greedily eyed off more than one, she encouraged him to take more. At the very end of the flight the attendant came back, Julia her name was, and handed a good sized bag full of the chocolates to Colby with a note attached saying" we hope you enjoyed your flight with us xx Julia". A lovely way to cap off a long flight, thank you SWISS.
SQ279 Singapore – Adelaide
Greeted with smiles by the friendly cabin crew as we board the late flight to Adelaide at 11.10pm on board Singapore Airlines' A330 aircraft. Our seats are 33A and 33C, the seating configuration is 2-4-2 and these are two on the left side, Singapore are still doing partial free seat allocation except on their 2 cheapest price brackets where you have to wait until check in to allocate anything.
Attendants move swiftly about the cabin ensuring overhead storage is sorted, handing out hot towels and toiletry kits. The toiletry kits include socks, toothpaste and toothbrush. Always a nice touch when you get this.
Once departed and the seatbelt sign is switched off, cabin crew start on the meal service. Child meals are dispatched first, a tray of mixed sandwiches, ham and egg, accompanied by Milo drink and hazelnut spread snack. The adults received the choice of either tuna or pastrami salad baguette with your drink of choice. Perfect for a late flight as it's not too heavy.
In flight entertainment options seem endless, 450 movies and over 250 TV shows to choose from. The screen is a good size too.
Breakfast is served in the last 2 hours of the flight. Again the child meal arrives first, a good size breakfast meal featuring pikelets and sausages with maple syrup, a small box of cereal with fresh milk, yoghurt and a packet of small biscuit type snacks. Adults have the choice of fried carrot cake or omelette with fresh fruit, break roll and jam. The fresh fruit would have gone down well on child meal to balance it out but other than that it was very good.
Singapore cabin crew are very accommodating and extremely friendly throughout the flight. Well deserving of their excellent reputation.
All in all, Colby and I had a fantastic round the world trip and we did it in just 2 weeks. Kids are really adaptable and with the advent of tablets and on board entertainment a round the world airfare is really not much more effort for them than just a return long haul flight, yet you'll get to experience so much more. The SWISS round the world ticket is sensational value for money allowing you to take your children to see a bit more of the world and experience more places and cultures than you would to just one continent.