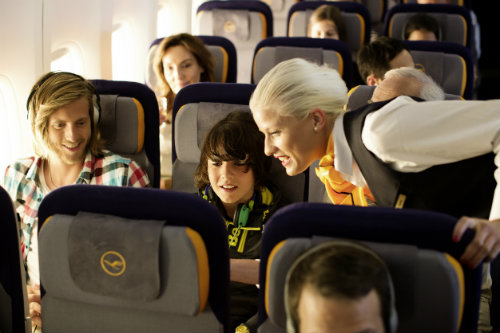 Lufthansa Flies A350 to Munich
Deutsche Lufthansa will take its first ten Airbus A350's to their new base in Munich from January 2017, giving the airline's second-largest hub (after Frankfurt) the most modern and environmentally friendly of their long-haul passenger planes.
"We are delighted that we are able to offer the most modern aircraft type to our long-haul passengers flying out from Munich. The A350 also constitutes an active step towards noise protection", says Thomas Winkelmann, CEO of the Lufthansa Hub Munich.
One of the hallmarks of the Airbus A350 is its particularly quiet environment in the cabin.  It achieves this with a combination of using the latest Rolls Royal engine, aerodynamic design, new insulation methods and sound-absorbing materials.  It is estimated that the noise footprint generated is up to 50% less than that of comparable aircraft.  Passengers will also enjoy the wider panorama windows and more spacious overhead stowage bins.
The first destinations the A350 will fly from Munich are expected to be Delhi and Boston, with Hong Kong and Beijing to follow.
Lufthansa's A350 aircraft are configured with three cabin types and can carry up to 293 passengers: 48 guests in Business Class in a 2-2-2 layout, 21 in Premium Economy in a 2-3-2 layout, and 224 in Economy Class.  Lufthansa's A350 aircraft will be equipped with the new Premium Economy featuring a seat that is up to three centimetres wider than in Economy Class, depending on the type of aircraft.  Height adjustable footrests from the second row and, for design reasons, leg supports with integrated footrest in the front row provide additional comfort.  One of the great benefits in our opinion, is that for a surcharge of 25 Euros (AUD $39), passengers also have the opportunity to enjoy the Lufthansa Business Lounge before their flight.
The airline's plan is for the A350 to gradually replace the A340 fleet with 25 new aircraft currently on order.