Lufthansa rolling out new meal service
Lufthansa has begun the global rollout of its new inflight restaurant service 'Business Class Signature Service' on long-haul flights.  Based around the concept of individualised restaurant service, the programs sees a higher crew-to-passenger ratio of one flight attendant for every eight passengers in the Business Class cabin.
After debuting in June and July on its Airbus A380 routes to New York and Miami, the service has been extended to superjumbo flights to Houston, Johannesburg, Los Angeles, Delhi, Beijing, San Francisco, Shanghai, Seoul and Singapore.  Next up is Boeing 747 flights from 01 October, followed by the Airbus A340 fleet from its German hubs Frankfurt and Munich to Asia and the Middle East on 25 October.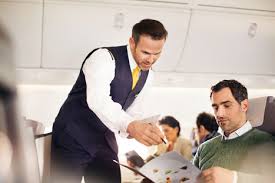 "Flight attendants will now adapt their service more strongly towards the rhythm of their passengers in order to individually respond to their guests' needs and requests just like a top-class restaurant" Lufthansa says.  "After the flight attendants have welcomed 'their' guests on board in person and by name, they take their orders and set the table with ceramic crockery."
The traditional trays and in-flight catering trolleys have been replaced with meals plated and served directly from the galley, with Lufthansa having trained some 4,500 flight attendants in the practice since May this year.
"It's a substantial upgrade to business class and the Lufthansa premium experience" Lufthansa explains.  "When we designed this a year ago we said that premium quality is what Lufthansa once stood for, and will stand for again."