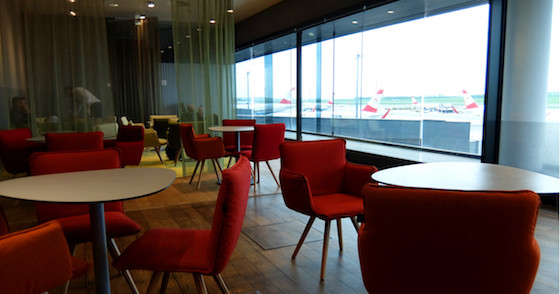 Austrian Airlines Vienna Airport Lounges – Non-Schengen Area
Continued from … Austrian Airlines Schengen Lounge review
The Austrian Airlines non-Schengen Lounge is decorated in the same way as the Schengen lounge. The same green/grey/red colour palette, furniture and artwork concept.
This lounge however is in one long stretch with better Tarmac views.
In this lounge, the buffet is again near to the entrance, and is is straight Galley kitchen style. We were in the lounge in the morning so a variety of breakfast food were served including very tasty scrambled eggs.
Also available were a range of self serve drinks including fresh juices,  tea & coffee as well as beer, wine and spirits.
This lounge also has a TV area with comfortable loungers to relax in and is decorated with reproductions of famous Austrian paintings.
The lounge is not large, however even with a delay and an influx of passengers, the lounge did not reach capacity or feel overcrowded. There are also shower rooms available for those travelling long haul and wishing to freshen up before boarding. Whilst these lounges are not the most luxurious we've visited across the world the are comfortable with enough food and drink options. Thanks to their recent makeovers they're a pleasant place to relax while on the go.
Read More Reviews from our Lufthansa Round the World Airfare
Flights
Sydney – Singapore: With Singapore Airlines
Singapore – Munich: With Lufthansa
Vienna – New York: With Austrian Airlines.
Los Angeles – Melbourne: With United Airlines.
Lounges
Singapore Airlines Changi Airport Lounges Guide
Lufthansa Munich Airport Schengen Lounge Review
Austrian Airlines Vienna Airport Schengen Lounge review
Austrian Airlines Vienna Airport Non-Schengen Lounge review
United Airlines Newark Airport United Club Review